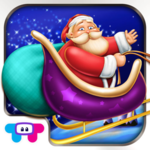 BridgingApps just published the following BridgingApps Reviewed App on the site:
Christmas Tale HD app has six Christmas themed games to play. The games include puzzles, a storybook, painting and simple games. The app is interactive and allows users to do a variety of fun activities within each game. Christmas Tale HD is excellent for teaching Christmas vocabulary, increasing verbalizations, memory and fine motor skills.
This app is free to play, but certain in-game items may require payment. You may restrict in-app purchases by disabling them on your device.
Click on the link below for full review:
https://insignio.bridgingapps.org/apps/a0451c14-db30-522d-6379-cd9be6d77551