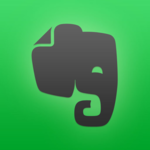 Day 6 of 30 Back To School Apps in 30 Days ✏️
Never lose a note again! Evernote – stay organized will change the way you organize your personal and professional projects. Take notes, create to-do lists, and save things you find online into Evernote. And, it is all synced between your phone, tablet, and computer automatically.
For students this is a wonderful tool to teach organizational skills. We trialed Evernote with typically developing students and developmentally disabled high school students, as well as students diagnosed with ADD/ADHD.
Click on the link below for full review:
https://search.bridgingapps.org/apps/9531ca08-46e1-0b20-ca68-6f7d019c37a8
#BackToSchool #BackToSchoolApps #AppsForTeachers